Case Study: New HVAC Install for Muddy & Uneven Ground
Ground conditions surrounding this home built in the late 60s presented a challenge for its owners who wanted a new HVAC system. The previous air conditioning unit was installed near the back patio creating an unnecessary distraction for the owners and their guests. Our technicians determined that a new Daikin Fit system installed around the corner of the home was the optimal solution.
Not only can these systems be mounted to keep them off the ground and away from mud, but the efficiency of the unit can help save money on energy bills. Its versatile mounting capabilities and overall slim form factor also make it a convenient and practical choice since it is very difficult for debris to enter the unit. Click the button below to learn more.
If you have a unique or challenging HVAC situation in your home, don't hesitate to call Empire today. Our operators are standing by at 404-294-0900.
Before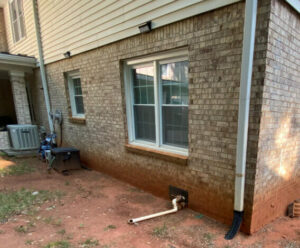 After