Concerned About Fall Allergies? There Are Products that Can Help!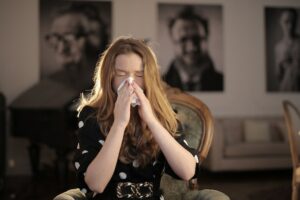 Once the fall season arrives in Georgia, we can start to look forward to the weather cooling down just a little bit and all the other great things that autumn has to offer. From the changing colors of the leaves to pumpkin-inspired treats, there is so much to love about the fall. However, if you're a seasonal allergy sufferer, the autumn season can also cause some unfortunate discomfort.
According to the Center for Allergy & Asthma of Georgia, there are many allergy triggers that abound once the fall season arrives. These include ragweed, goldenrod, sagebrush, leaves, mold spores, seasonal pollen, and dust. So, how can you avoid these allergens in your home? The CA&A recommends regular cleaning of your HVAC system, visiting your allergy specialist, and taking any prescribed allergy medication. Fortunately, there are also great indoor air quality products on the market that can help as well.
Three Types of Indoor Air Quality Products to See You Through Fall Allergy Season
While there isn't much that can be done to keep the air outside of your home allergen-free, there are measures you can take to ensure your indoor air is as fresh and clean as possible. Here are a few indoor air quality, or IAQ, products that can help you and your family breathe easier during allergy season and all year through:
Air Purifiers: The best air purifiers available actively purify the air throughout your entire house, killing mold, bacteria, and viruses, and reducing contaminants like allergens, odors, smoke, and other particles. These systems provide whole-house air purification because they work with your air conditioning or heating system to purify the air delivered throughout your home.
Ultraviolet Purification: Ultraviolet, or UV, air purification inhibits the growth of mold spores and certain bacteria by as much as 99 percent. UV systems are also used in hospitals, restaurants, and other places where clean air is important. They also help keep odors at bay in your home by eliminating them.
Air Filtration: Most home HVAC systems come with standard air filters, but there are advanced filters that can do even more to keep the air in your home clean. These filters offer a superior MERV filtration level, reduced need to change the filter (once every 6-12 months instead of monthly), and advanced capture of airborne particles (up to 96 percent). You'll get healthy, clean, safe indoor air without a lot of work.
Additionally, some homes benefit from humidification systems, especially homes where the air is often drier than normal. Proper humidity levels can help allergy sufferers because they help the eyes, nose, and throat keep from drying out, which can lead to further irritation during allergy season.
Can Empire Heating & Air Conditioning help me get the IAQ products I need?
At Empire Heating & Air Conditioning, we know that your home comfort goes beyond the temperature of your home. That's why we're pleased to offer our customers a broad range of indoor air quality solutions, from basic filtration to advanced purification.
If you think it's time for better air quality in your home, Empire is ready to help. We take great pride in offering our customers quality indoor air quality products that can provide them with fresher, cleaner air. To learn more about our indoor air quality products, call us at 404-294-0900 or contact us online today!