Residential vs. Commercial HVAC Systems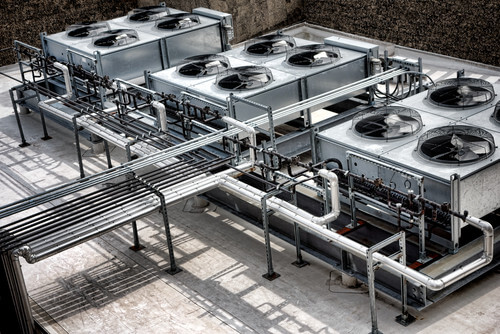 As any Atlanta air conditioning repair company will tell you, having the right equipment for a job is just as important as getting the right price and finding a quality contractor. While there are some common fundamentals when it comes to residential HVAC systems versus commercial HVAC systems, they are not the same. Therefore, it's vital that you only hire highly-trained HVAC technicians before you proceed with your next project. Otherwise, you could be headed for disaster.
The Differences Between a Residential HVAC System and Commercial HVAC Systems in Atlanta
1. The main difference between residential and commercial units is size.
2. Commercial systems are required to cover significantly more square footage and therefore are manufactured as one unit known as a prepackaged unit. That simply means all the individual components are housed in a single cabinet. Whereas, residential units use a split system. That means the condenser and the compressor are both located on the exterior of a home and the evaporator and the blower are located somewhere inside the home.
3. Commercial HVAC units handle extremely large spaces; therefore, the drainage system, etc. is much more complex. Whereas, a residential unit only houses a single condensation pan and usually drains to the outside.
4. Commercial units are usually located on the roof. However, there are some exceptions, such as swamp coolers. Residential units are usually located on the ground.
5. Commercial units are modular, which means they are more flexible. For example: if less cooling is required, one of the modular units can be taken off. If more cooling is needed, a modular unit can be added on. With a residential unit, if you need more cooling, the unit cannot be expanded. You would be required to buy a whole new system.
6. Residential systems have windows in place to help with ventilation, but a commercial system does not. Therefore, other components need to be provided to handle the general exhaust functions.
The Bottom Line
It's extremely important that you take the time to find a qualified, reputable HVAC repair company when it comes to hiring someone for your next project, regardless of whether it's for a residential application or a commercial HVAC application.
Empire Heating & Air Conditioning provides HVAC repair in Atlanta and has technicians with over 200 years of combined heating and air conditioning experience. In addition, all of our senior technicians are NATE certified. We have an A+ Better Business Bureau rating and we actively participate with the Air Conditioning Contractors of America, Conditioned Air Association of Georgia, MAACA and ASHRAE.
What does that mean for you? That means all your HVAC needs will be professionally administered by a highly-respected member of the community with proven credentials you can trust. Empire Heating & Air Conditioning offers an array of services to meet all your heating and air conditioning needs. Contact us today for a free consultation.
Image courtesy of: Shutterstock