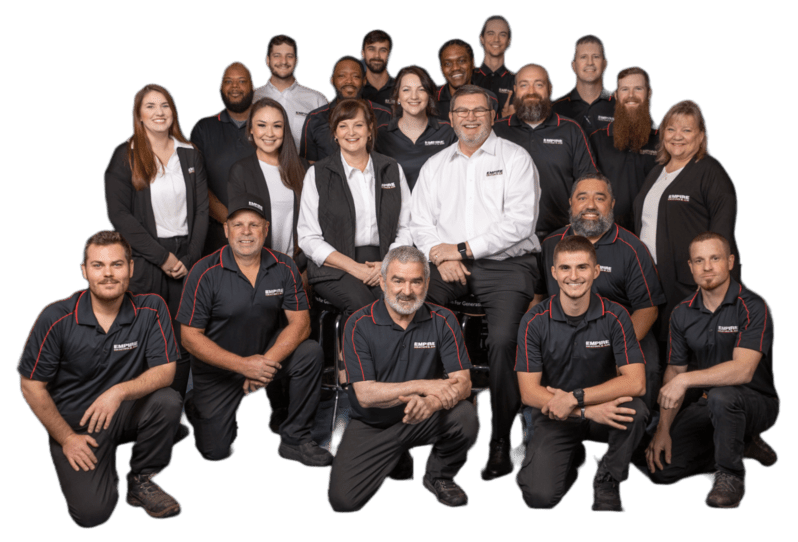 The Empire Team is Ready to Help With Your Comfort Needs
We hope you have a pleasant experience with us and that you will choose Empire to serve your heating and air conditioning needs. We look forward to serving you. Please call us at 404-294-0900 or contact us online today to schedule an appointment.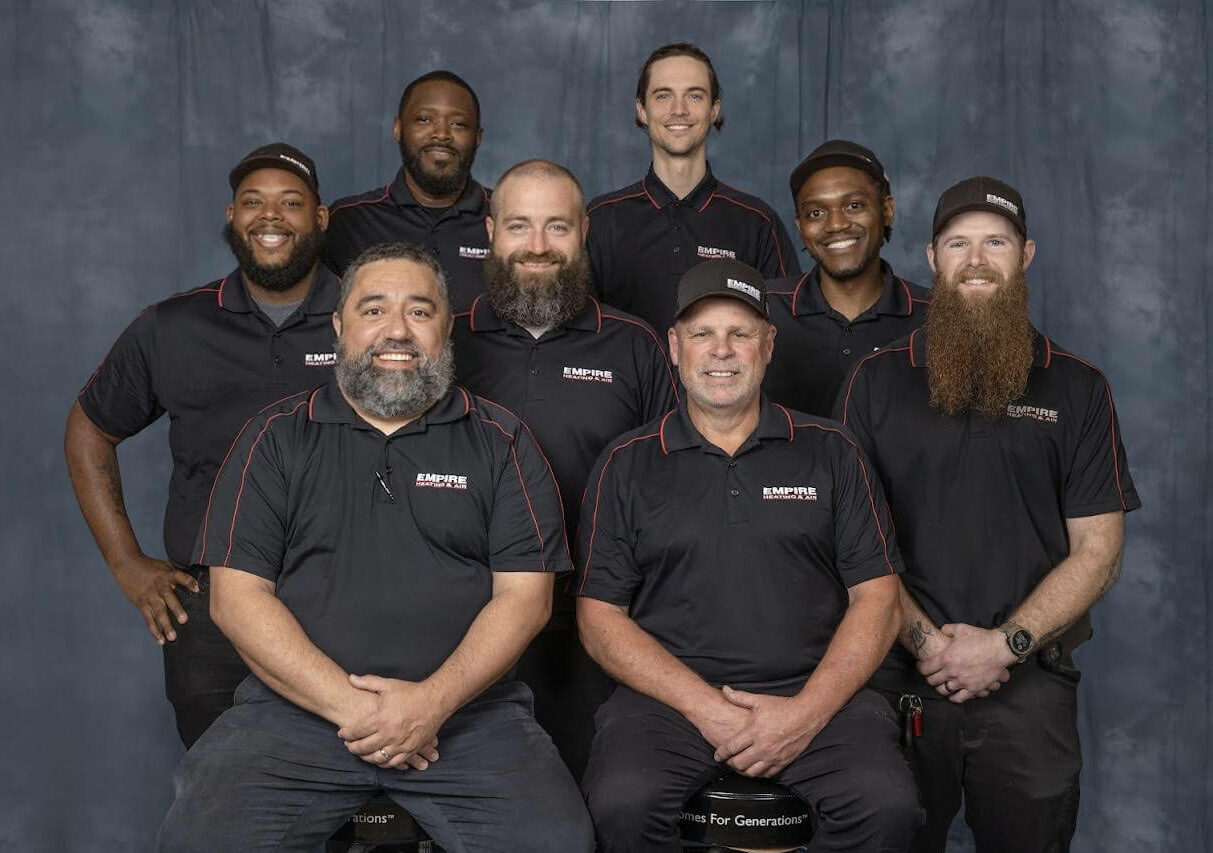 Back Row (Left to Right): Terrance, David, Mike, Chase, Zeke and Travis
Front Row (Left to Right): Jorge and Charles
Jorge, Chris A., Niki, Michael
Not Pictured: Tori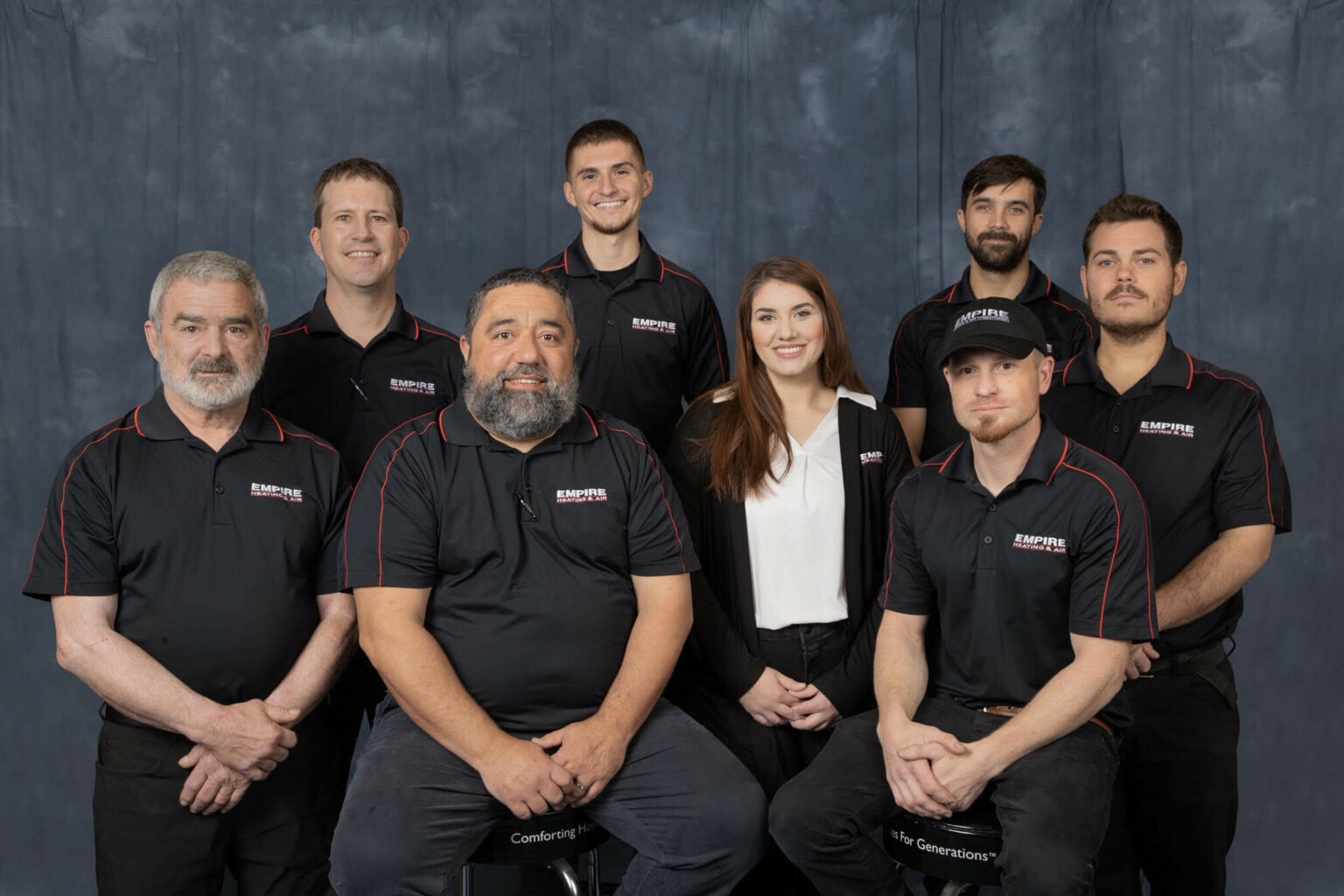 Pat, Chris A., Jorge, Ryan, Tori, Chris B., Patrick and Joe
Tori, Mason, Cindy, Gila, and Geena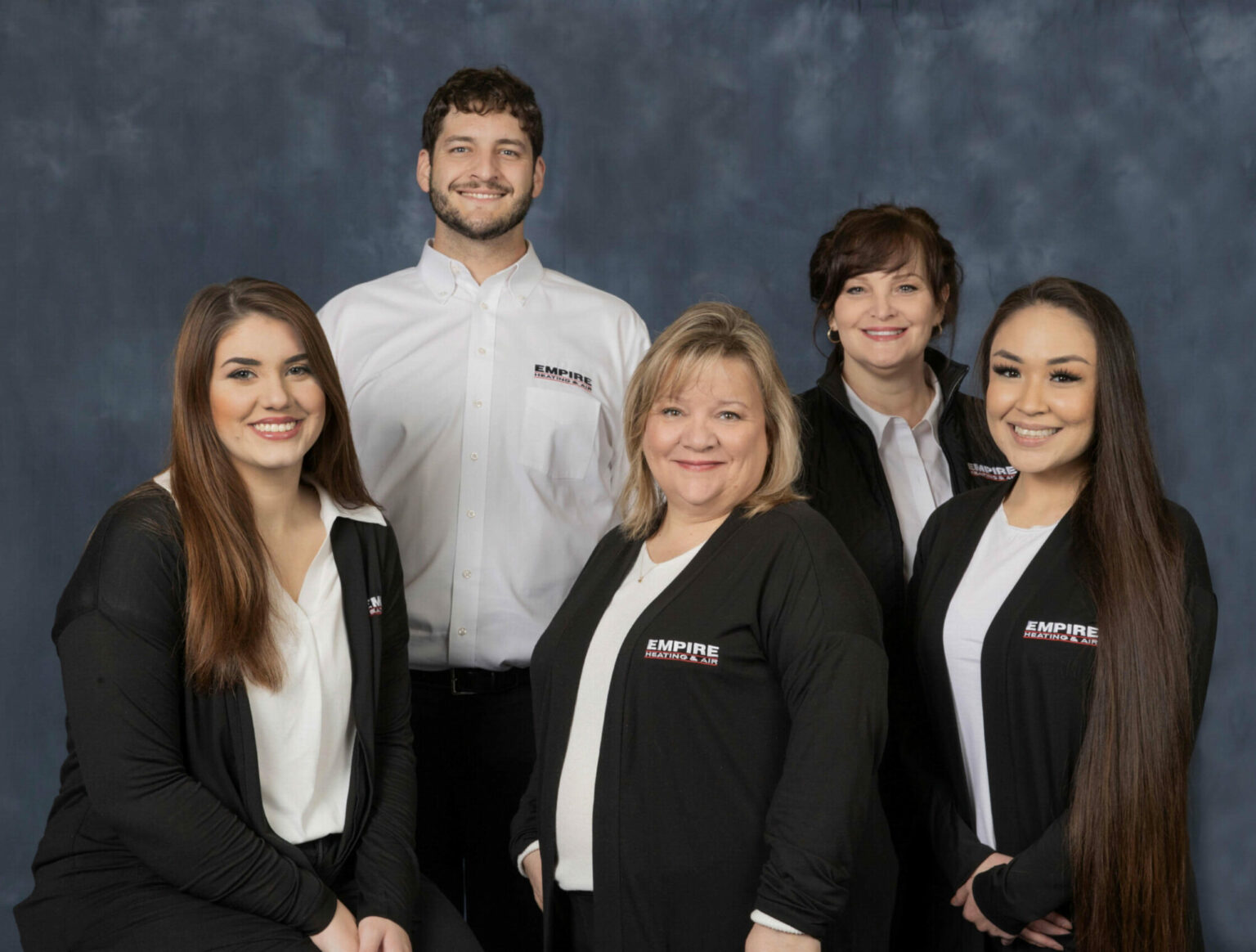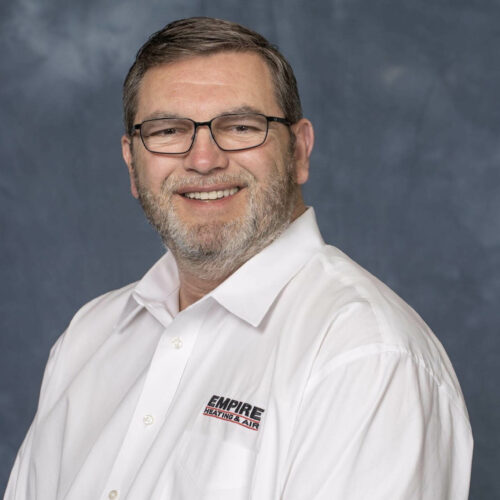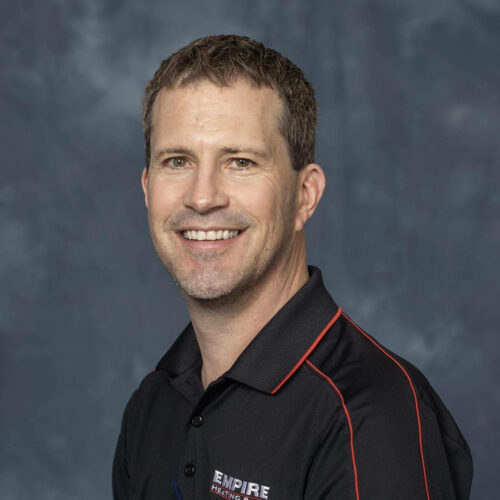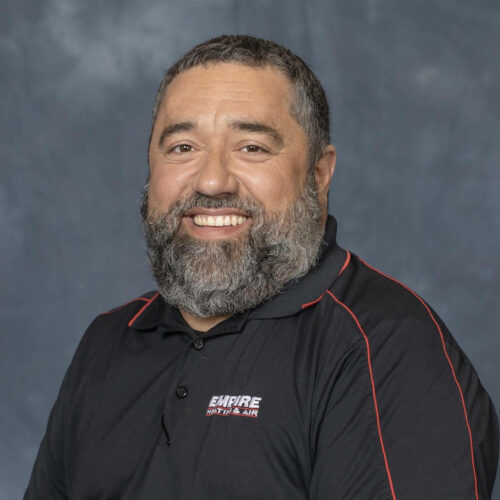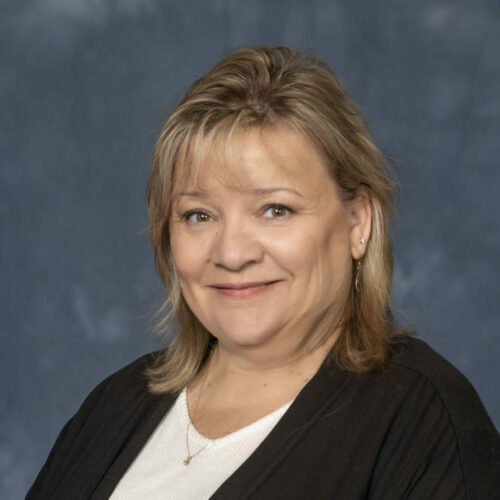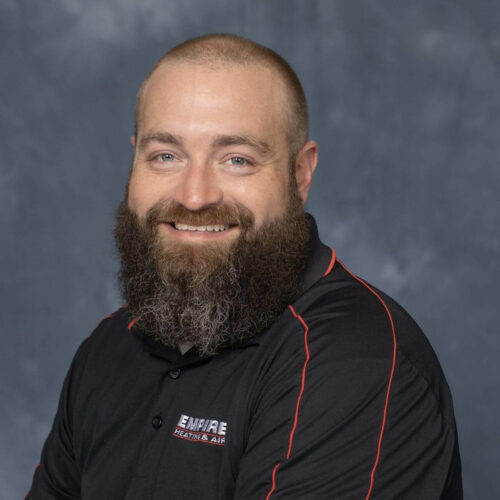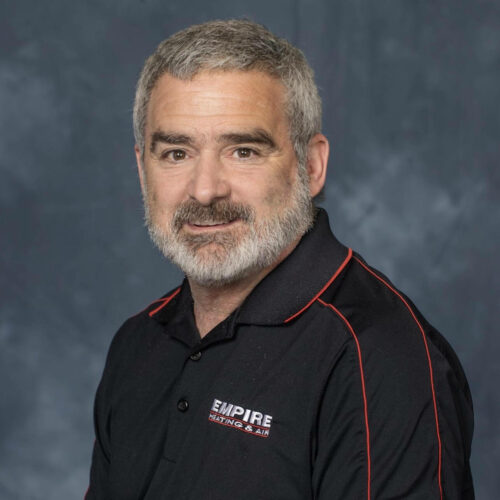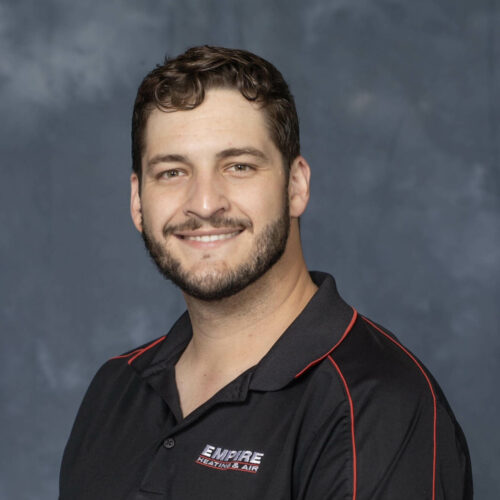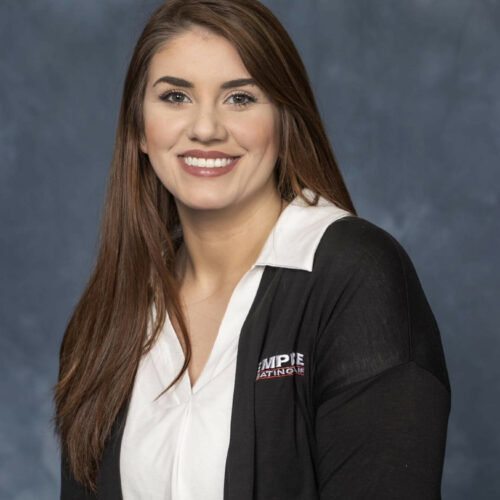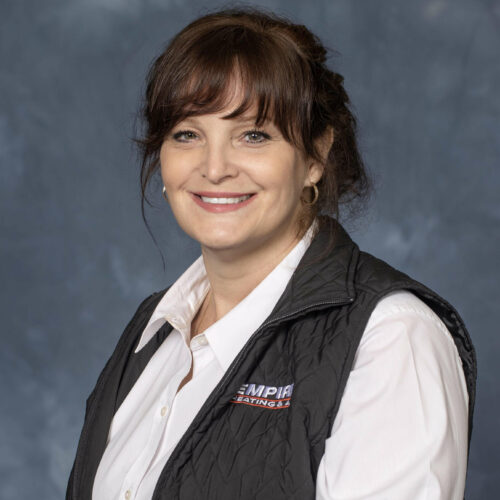 President
Martin Hoover
Martin Hoover is the co-owner of Empire Heating & Air Conditioning, an Atlanta-area business which he co-founded in 1985 with his wife, Gila Ragan Hoover. The company specializes in heating and cooling sales, service, design and installation for residential and light commercial applications. In addition to his day-to-day responsibilities as a small business owner, Martin wears many hats, including: sales management, marketing, product development and individual coaching. Over a career spanning more than 40 years, Martin's exemplary work and pride in maintaining compliance with the industry's latest regulations are evident in the numerous awards he has received. These include: several American Standard, Amana and Daikin Dealer Awards; Contractors 2000 Performance Award; Conditioned Air Association of Georgia Contractor of the Year and ACCA's 2020 Distinguished Service Award. Martin has served in several industry leadership positions at the local and state levels in Georgia. He was the president of both the Metropolitan Atlanta Air Conditioning Contractors Association and the Conditioned Air Association of Georgia. He is currently serving on the Board of Directors for the Air Conditioning Contractors or America (ACCA) and currently serves on the Executive Committee. Martin studied business and psychology at Georgia State University. In addition, he has: a Class II Boiler Service Certificate; a National Comfort Institute Certification for Performance Contracting; a National Comfort Institute Certification for Carbon Monoxide and Combustion Analysis; and holds Georgia licensing as a Master Plumber as well and Conditioned Air Contractor.
Sales Manager
Chris Adolph
Chris Adolph heads up the Sales & Design center for Empire Heating & Air Conditioning. After spending his first few years in the HVAC industry at a local Atlanta company he came to the Empire team in 2004. When he is not working Chris can be found spending time traveling w/ his wife and their nieces and nephews, and in his free time he enjoys watching Formula One Racing and is also a big foodie.
Operations Manager
Jorge Gonzalez
Jorge Gonzalez is the operations manager at Empire heating and air conditioning. Jorge has been in the HVAC business in Metro-Atlanta for over 24 years. Jorge is a graduate of Gwinnett Technical Collage. During his career he has had many roles and has worked as an installation helper, Installation Lead, Preventative maintenance service, Demand service, Field supervision, Installation Manager, Commercial Service management and commercial and residential sales. Jorge holds many industry certifications to include Nate, NCI, BPI and EPA.
Office Manager
Cindy Salonus
Our Office Manager Cindy Salonus was raised in Decatur, GA. She has been with Empire Heating and Air Conditioning, Inc. for over 22 years. She not only makes sure the office runs smoothly, but strives to make sure that our customers feel as important as we know they truly are. Cindy and her husband have raised 3 boys into young men.  In their spare time they enjoy music, going to concerts, taking the dogs to the dog park and socializing with family and friends. Cindy's favorite spot to eat is Taqueria del Sol in downtown Decatur.
Field Service Manager
Michael Suter
Michael was born and raised in the Atlanta area. He began his HVAC education in high school with vocational training. Michael graduated in 1999 from North Georgia Technical college with his HVACR Technician certification for residential and commercial HVACR.  He began his career as a maintenance technician where he moved up to a service technician position where he has continued to advance in his field.
Michael is NATE (North American Technician Excellence) certified, EPA (Environmental Protection Agency) certified and holds a Mitsubishi City Multi certification for commercial air conditioning.
With over 20 years' experience in the industry Michael still loves the challenge of being able to fix issues before replacement is necessary. He takes pride in the customer service that he provides to ensure every client feels respected, has the best options and has their best interests in mind.
When Michael is not fixing/maintaining every A/C unit in his path he enjoys traveling with his wife and children.  He can be found cheering on his daughters at different sporting events and tackling his wife's 'fix it list".
Production Supervisor
Pat Teti
Pat was born and raised in the Bronx, NY before moving to the Atlanta area in 1977. He started his career in the industry in 1978 and met Martin Hoover and his dad, Sarge, shortly after which he says was one of the best things to ever happen to him and his family. He started at Empire 30 years ago in June 1992 has seen so many changes to the industry over the past 44 years, it's hard to imagine what it was like before cordless tools came around. Pat enjoys following sports, going to games, classic rock music, and live concerts. Although, his most favorite thing to do is chase his 2 grandchildren around.
CFO
Mason Hoover
Mason is the current CFO for Empire Heating and Air Conditioning. He has worked in the HVAC industry from an early age in one way or another. He received his Bachelor's Degree in Accounting from the University of North Georgia and is a Total Tech Certified technician also holding his EPA certification. Mason has held many positions over the years, including Service & Install Technician, Inventory Specialist, Dispatcher, Customer Service Representative and managing AP and AR. In his spare time Mason enjoys travel, kayaking, sports and unique dining experiences.
Install and Parts Coordinator
Tori Miner
For the past 7 years,Tori has been using her excellent organizational and communication skills to enhance daily operations at multiple firms and businesses in the Metro Atlanta area. She is skilled in customer service, data input,accounting, and project management.Tori is our Install and Parts Coordinator and has been with Empire since late 2021.She is the face behind the scenes with all service, install, and sales. She enjoys spending time with her husband and son,reading books, and anything outdoors.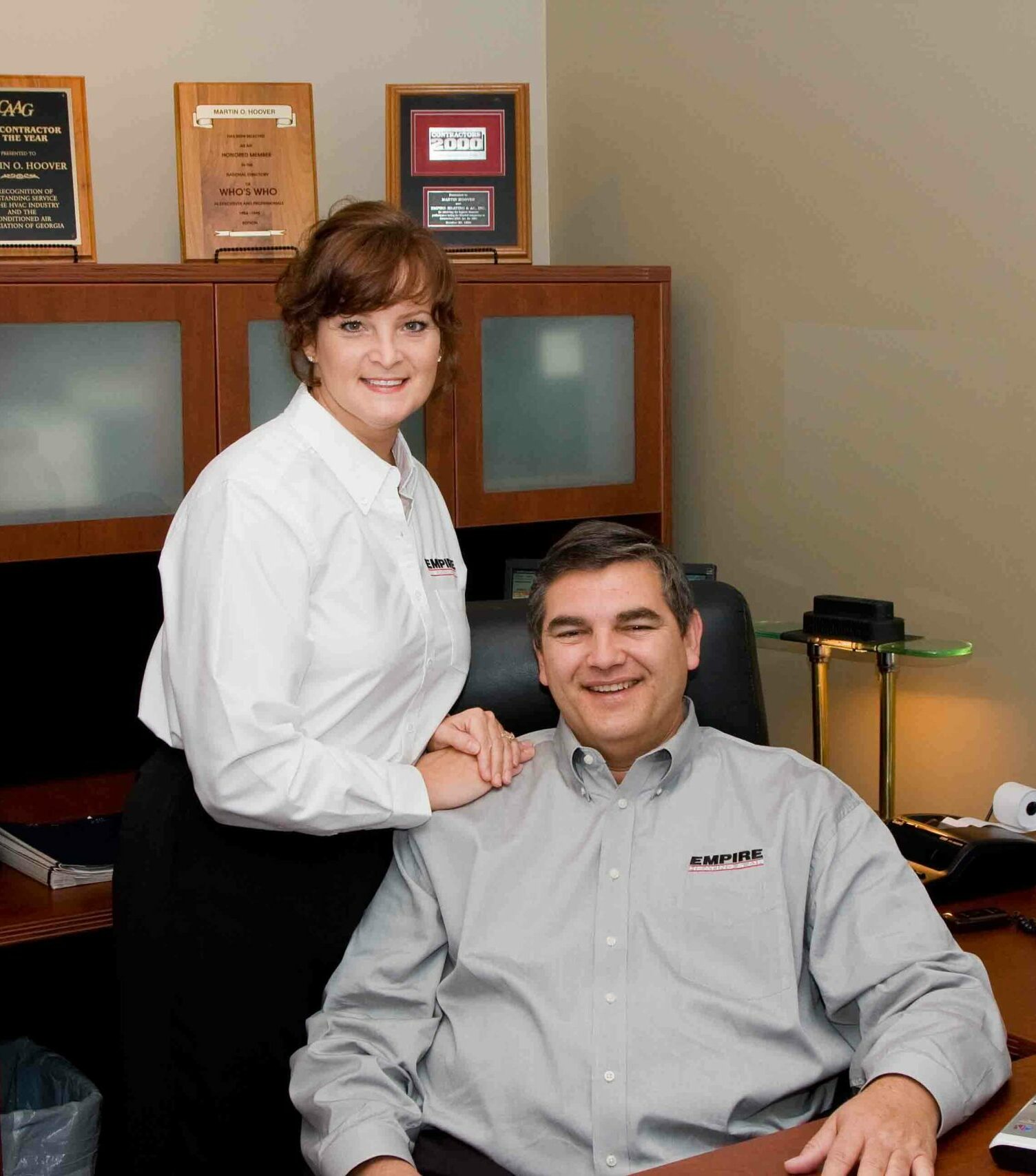 Martin Hoover and Gila Ragan-Hoover are the owners of Empire Heating & Air Conditioning, located in Decatur, GA. They founded the company in 1985 with a vision for excellent customer service, which in turn would help them to create superior brand value when compared to their competitors. Both Martin and Gila remain active in Empire Heating and Air Conditioning and have been blessed with a great team to help accomplish the vision.
Empire was a shoestring startup from the very start. Initially, Gila worked in the office every day (and on job sites when needed) while Martin was in the field pulling service calls and installing systems. Most of our work in those early days came from good, old-fashioned word of mouth referrals. Their first office set-up had Radio Shack phones, lawn chairs, and salvaged office furniture located in the old Austin Car Wash building in downtown Decatur. Walter Austin was a great first landlord and shared in their excitement to begin their own business. He prorated the rent starting at $100 and going up a little each month to help them get off the ground.  During those times, Martin and Gila created the operating systems procedures that still guide the team today.
"It is our goal to continue to deliver excellent customer service with real people in the office and skilled trades people in the field. We look forward to the opportunity to be of service to you, your friends, neighbors and family."
-Martin and Gila
Call Empire for the AC Services You Need
When you need air conditioning services and solutions for your Atlanta area home, you can rely on Empire Heating & Air Conditioning to help. We are pleased to offer comprehensive, professional air conditioning services that will help you and your family stay comfortable all summer long, no matter how hot it gets outside. Call us at 404-294-0900 or contact us online today!