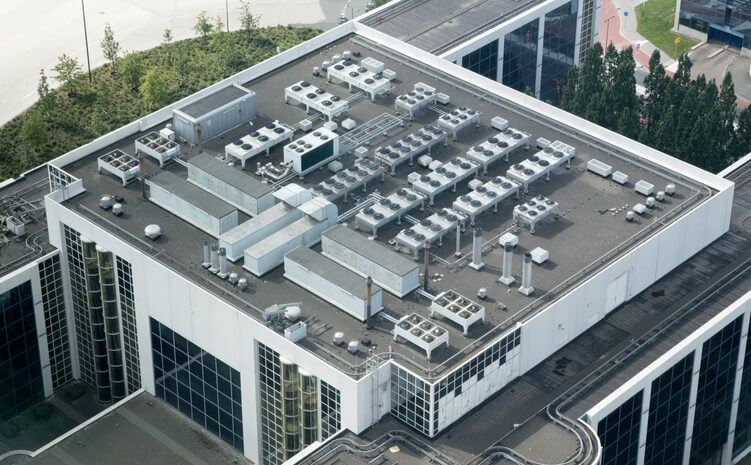 You rely on your commercial air conditioning system to keep your team working
If your business or organization's buildings are too hot, it can make your employees less productive and can keep clients and customers away. If your commercial AC system needs to be replaced you want to know you're working with a professional air conditioning installation company. At Empire, we are confident in our HVAC design and installation skills in the commercial market. We can provide you with the best equipment available to meet the specifications of your facility. We make sure your commercial air conditioning replacement is on time and on budget. A comfortable environment will keep your team productive.
Empire's team of commercial technicians are well trained and experienced in the field of commercial AC services and installations. Empire will have your system up and running to make sure your facilities are cool and comfortable in no time.
Signs you need a commercial AC system installation or replacement
The commercial air conditioning system in your business or organization is an investment. You need this system in place to help your employees and clients stay cool and comfortable, and you want to know that you've installed a product that will provide a long and dependable life cycle. While nobody wants to think about new AC installation or replacement, there are some signs that it may be time for a new installation:
Your current system is more than 10 years old
Your utility bills have increased substantially
Your commercial heating system needs frequent repairs
The current system is not keeping up with demand
You have added or altered space and the existing system no longer performs well
The Commercial HVAC Services You Need for Your Decatur Company
You can count on Empire Heating & Air Conditioning to help you get the high quality light commercial air conditioning installations that you need for your business or organization. Learn more about the various HVAC commercial services we offer:
Call Empire when you need air conditioning installation and replacement service.
When you need air conditioning installation and replacement for your Decatur area business or facility, you can rely on Empire Heating & Air Conditioning to help. We are pleased to offer professional installation of high-efficiency, high-quality air conditioning equipment that will help you and your team stay comfortable all summer long, no matter how hot it gets outside. Call us at 404-294-0900 or contact us online today!