At Empire, We're Thankful for Our Team Members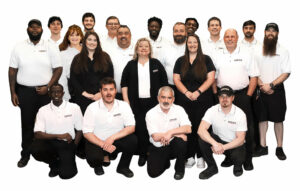 At Empire Heating & Air Conditioning, we have a lot to be thankful for. We're always grateful for our customers, many of whom have been loyal since we first opened our doors in 1985. In fact, when we founded our company, it was with our customers in mind. We knew we wanted to treat our customers like family, while providing more value than our competitors.
As we enter the holiday season, we want to take a moment to not only thank our valued customers for their continued support, but also, the people who make what we do possible every day – the amazing Empire team. There are many different departments at Empire, but they all work diligently together toward a common goal – helping our customers enjoy the best possible home comfort.
Learn more about the team at Empire Heating & Air Conditioning
Service Team: The service team at Empire works hard to make sure you get the maintenance and repair services you need in a timely manner. They help schedule your annual maintenance appointments, and work with you to get you the repairs you need as soon as possible.
Install Team: Need a new air conditioning system, heater, or indoor air quality products? Then you can count on our professional installation team to get those products installed in your home promptly and to your complete satisfaction.
Sales Team: The sales team at Empire knows heating, cooling, and indoor air quality systems inside and out. They know what types of systems are best for different home types and applications, and can help you find the best system for your lifestyle and budget.
Office Team: Our office team keeps Empire running smoothly, day in and day out! They make sure you get the best possible service when you call us, and help coordinate and schedule appointments, whether you need maintenance, repair, or a new installation.
Founders: Martin Hoover and Gila Ragan-Hoover founded the company in 1985 with a vision for excellent customer service, which in turn would help them to create superior brand value when compared to their competitors. Both Martin and Gila remain active in Empire Heating and Air Conditioning and have been blessed with a great team to help accomplish the vision.
When you need us, the Empire team is ready to help you.
Empire provides 24-hour, 7-day-a-week superior service, high quality installation and courteous customer service representatives. All of our service techs and installers are fully licensed and insured. We hope you have a pleasant experience with us and that you will choose Empire to serve your heating and air conditioning needs. We look forward to serving you. Please call us at 404-294-0900 or contact us online today to schedule an appointment.