Is My Old Thermostat Costing Me Money?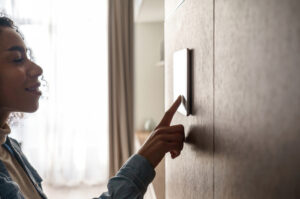 When people think about their home's HVAC system, the main components that come to mind are usually the air conditioner and heater. Most of the time, they don't think about the important job their thermostat does when it comes to the system. Many homes have old, outdated thermostats installed – and if your home does, it could be costing you money.
In this article, we'll talk about some of the drawbacks of having an antiquated thermostat installed in your home, and how upgrading to a programmable or smart thermostat can offer better comfort, reduction in energy consumption, and ultimately, lower utility bills. Keep reading below to learn more!
5 Drawbacks of Having an Outdated Thermostat in Your Home
If you're not sure if you have an outdated thermostat, there are a couple of things you can look for. Most older thermostats are either round or rectangular and have a dial that allows you to turn the temperature up or down. If your thermostat is like this, then chances are you are dealing with some of the drawbacks associated with having an outdated thermostat, including:
Inaccurate Temperature Readings: As thermostats get older, their sensors can become less accurate because of years of use. This can cause the thermostat to not accurately read the ambient temperature in the room. The result? Your AC or heating system may not turn on or off properly, which leads to temperature imbalances and inefficiency.
Limited Temperature Control: Older thermostats may offer only basic settings like heat, cool, and off – or they may allow you only to turn the temperature up or down. With an older thermostat model, you're unable to set specific temperatures or program for different times of day. This can lead to your HVAC system running longer than needed, which can waste energy and increase your utility bills.
Manual Adjustment: With an older thermostat, you need to turn it up or down physically. It's easy to forget to change the thermostat before leaving for the day or going to bed. As a result, your system might run unnecessarily throughout the day, leading to higher energy use.
Lack of Programmability: Most modern thermostats are programmable. Even the most basic models allow you to program your thermostat for home, away, and sleep. Older thermostats lack that capability, so you'll need to remember to change the temperature before leaving for work or before going to bed, which isn't always feasible.
Lack of Adaptive Features: Older thermostats simply don't offer the advanced technological capabilities of newer types of thermostats, some of which can "learn" your family's habits, take into account weather forecasts, and know when people are in a room or in the home.
Fortunately, many different types of modern thermostats can remedy these drawbacks, and help you save money on your utility bills.
Empire can help you upgrade your thermostat so you can start saving energy.
We're pleased to offer both a programmable and a smart thermostat option, both of which can help your HVAC system operate more effectively and efficiently.
Honeywell FocusPro 6000
This solid, dependable programmable thermostat is perfect for most conventional HVAC systems.
Good for heat pumps, outdoor AC, or gas furnace systems
Hassle-free operation
Can be set on hold, and back to run, with the touch of a button
Easy to operate; simple installation and configuration
Honeywell Prestige IAQ
With today's homeowners being more tech-savvy, many people are opting for "smart" thermostats. For these homeowners, this thermostat fits the bill. It is both popular and full-featured, perfect for those looking for a high-tech thermostat.
Fully WiFi capable
Can be controlled from a smartphone or tablet
Offers advanced customization and menu displays
Allows you to be aware of HVAC performance
The screen and outer frame can be changed to match the decor
Perfect for home or office that uses a zone control system
When it's time to update your home's thermostat, Empire is ready to help. Just give us a call at 404.294.0900. We will be more than happy to discuss our products and services with you and schedule an appointment with you today!