Air Conditioning & the Growth of Atlanta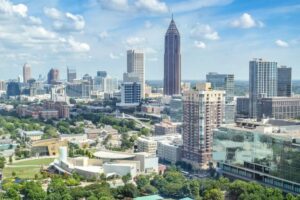 If you're like most people living in the Atlanta area, you've probably never considered what life here would be like without air conditioning. Most homeowners have air conditioning systems in their homes, and there aren't many stores, restaurants, or other retail locations that don't have air conditioning. But, air conditioning wasn't invented until the early 1900s, and didn't really become readily available for most homeowners until the 1950s.
Around the same time air conditioning became more common for the average homeowner, Atlanta saw a substantial rise in its population – it increased by 150,000 people from 1950 to 1960. The city saw another influx of people during the 1970s when air conditioning became standard in many southern homes. While there is no real way to know for certain that this boom in population was due to air conditioning, it certainly made life more comfortable for people living in Atlanta.
Benefits of Air Conditioning
At Empire, it's no surprise to us that Atlanta grew when air conditioning became more common. The climate in our region calls for the cool comfort of AC for much of the year. But having a quality air conditioning system installed in your home can do more than simply provide you with cooled air. There are many less obvious benefits to having air conditioning installed in your home, including:
Better Sleep: Many people find it difficult to sleep during hot, humid weather. Most people sleep best when temperatures are between 68-72 degrees Fahrenheit, and we all know a hot Atlanta summer can bring indoor temperatures well above that. Having a reliable AC system installed can bring those temperatures down, promoting peaceful sleep.
Reduced Risk of Heat-Related Illness: While most people are simply uncomfortable when Mother Nature cranks up the temperature outside, for people with certain conditions too much heat and humidity can cause health concerns. Infants, the elderly, and people with conditions such as heart disease, emphysema, and diabetes can benefit from home air conditioning.
Improved Indoor Air Quality: Because air conditioning provides better filtration of the air, many homeowners also notice improvements in their home's indoor air quality. A good filter can help reduce dirt, dust, pollen, dander, and other particulate matter. This can be especially helpful for those suffering from allergies, asthma, or other respiratory concerns.
Reduced Humidity: While an air conditioning system cannot provide the same level of moisture control as a dehumidifier, it can help cut down on the humidity levels during times of high outdoor humidity. Too much moisture can lead to mold, mildew, and bacteria growth. An air conditioning system can help.
You can ensure these benefits by choosing regular air conditioning maintenance.
Regardless of the type of air conditioning system you have installed in your home – traditional, heat pump, or ductless – you can guarantee that it will more effectively and efficiently keep your home cool when you make sure it's properly maintained every year. And that's as easy as contacting Empire to help. We're pleased to provide our customers with complete air conditioning services, including maintenance, repair, and replacement. Call us at 404-294-0900 or contact us online today – we'll be happy to help you keep your Atlanta home as cool as a cucumber!