Air Filtration Technology Serves as Strong Line of Defense Against Flu Season, COVID-19 Pandemic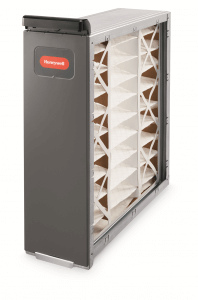 DECATUR, GA. – October 14, 2020 – Every fall and winter, people who experience a stuffy nose or a little sneeze ask themselves, "Am I getting sick?" There is no doubt that the colder seasons bring a bigger threat of illness from allergies to the common cold and flu, but this year presents a new, possibly more unnerving virus: COVID-19.
While good hand washing, wearing a mask and practicing social distancing are all widely acknowledged and proven ways to avoid germs and viruses, many home and business owners are also learning more about the importance of indoor air quality (IAQ) as of late. Poor IAQ can lead to the spread of viruses, increase in allergies, worsened asthma and other unhealthy conditions.
Martin Hoover, owner of Empire Heating and Air Conditioning in Decatur, explains that the most common indoor air problem is particle allergens like dust, dander, pollen, spores and bacteria.
"These occur in 91% of all homes and businesses," Hoover said. "That's why fixing your IAQ problems can create a healthier environment, and can actually increase the value of your home or office space."
In fact, IAQ issues arise in most common, high-traffic spaces. In bedrooms, you are likely to find bacteria and viruses, dust and pet dander. Bathrooms are also highly susceptible to bacteria and viruses, as well as mold and mildew. In living spaces, waiting rooms and lobbies, you may encounter carbon monoxide, tobacco smoke, organic chemicals and pet dander. Kitchens carry carbon dioxide, formaldehyde, smoke, gas, garbage and plumbing leaks. Garages hold carbon monoxide, mold and mildew, gasoline fumes, pesticides and herbicides.
The lists of potential threats lingering in the indoor air go on and on. Today, there is a variety of efficient and effective technology available for combating IAQ problems. Air filters are a common solution that can make a big impact while being minimally invasive.
"ACTIVE™ Particle Control technology just recently became available to residential and light commercial systems," Hoover said. "This had previously only been available in hospital, operating and clean room applications. I believe this is the single best technology available today."
ACTIVE™ Particle Control technology works by capturing viruses, bacteria and volatile organic compounds in an energy field and destroying them. It has been proven in hospitals and LEED-certified commercial buildings to exceed passive filtration strategies.
Out of all the IAQ technologies available for homes and businesses today, air filtration upgrades are the most popular. The materials used in filters have been improved to allow higher Minimum Efficiency Reporting Value (MERV) ratings, or filter efficiency, so consumers can get a higher level of filtration without restricting air flow or reducing their heating and cooling system's performance. Combining air filtration with purification and proper ventilation can create an excellent system to provide high-quality indoor air for peace of mind and a healthier fall and winter.
About Empire Heating and Air Conditioning, Inc. – Empire Heating and Air Conditioning, Inc. is based in Decatur, Ga. and was founded in 1985 by Martin and Gila Hoover. Empire services, installs and repairs all makes and models of heating and air conditioning equipment, including boilers, hydronic heating, heat pumps and water heaters. All of its senior technicians are NATE (North American Training Excellence) certified. Empire has been a recipient of the Angie's List Super Service Award for 15 consecutive years.
To learn more about Empire, call 404-294-0900 or visit empirehvac.com.