Checklist Items To Consider Before Beginning an HVAC Renovation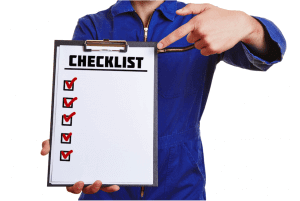 The HVAC system in your home or place of business is designed to give you a safe and comfortable indoor environment. It's time to consider replacing it when it can no longer maintain the right temperature and you find yourself paying for heating and cooling repairs more often.
You should also consider replacing your system if it's more than 10 years old. Modern HVAC systems are more energy efficient and environmentally friendly. You end up paying lower utility bills each month and decreasing your carbon footprint at the same time. Below are some things you can expect and should prepare for before, during and after the installation of your new HVAC system.
Pre-Installation Checklist
Make sure your contractor properly sizes your system by performing a Manual J calculation. Your contractor should also measure your windows, doors and rooms, check your existing duct system, registers and grills, inspect the insulation in your attic and crawlspaces, and review the load calculation with you.
Your contractor should also give you current literature on the system he or she is recommending for your home or business and discuss the benefits of energy-efficient equipment with you in detail. Ask about possible tax credits and rebates if you decide to purchase Energy Star-rated equipment as well as an AHRI certification to prove system performance.
During Installation
Make sure your HVAC installer completes the following tasks during the installation:
Seal all duct joints to prevent duct leakage.
Test, document and balance air flow rates at the air handler for each room.
Test thermostat for correct calibration.
Test-fire the furnace and adjust the firing rate if needed.
Make sure the outdoor condensing unit has the right amount of refrigerant charge.
Verify that the new unit is properly venting exhaust gases.
Install or recommend a carbon monoxide detector.
Post-Installation
Make sure you receive a copy of the operational manual and manufacturer's warranty for your new system. Your contractor should also give you a copy of the installation checklist of all the steps and procedures that were taken and followed properly. He or she will likely offer you a maintenance agreement for the system that was just installed. If you are entitled to a rebate, your contractor can help you in filling out the necessary paperwork.
Choose an Atlanta HVAC company with the experience, knowledge and expertise to install a new HVAC system in your home or business or perform any other HVAC task for you with precision and professionalism. As long-time heating contractors, you can count on Empire Heating and Air Conditioning for reasonable HVAC replacement costs as well as a wide range of reliable heating and air services.
Image Courtesy of: TrueAire.com