Empire Heating & Air becomes first SecureAire Certified Dealer in Atlanta, Decatur areas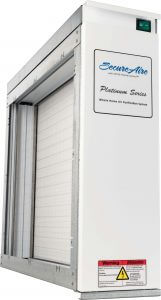 DECATUR, GA. – September 1, 2020 – Empire Heating and Air Conditioning recently became the first heating and cooling company in Decatur and Atlanta to earn the title of SecureAire Certified Dealer for SecureAire air purification products.
Empire will offer installation of the SecureAire products in both homes and commercial businesses as air filtration systems that capture and destroy viruses like COVID-19, bacteria and volatile organic compounds (VOCs). SecureAire's ACTIVE Particle Control Technology has been proven in hospitals and LEED certified commercial buildings to exceed passive filtration strategies.
"In our search for the best air purification technology, SecureAire was the clear choice," owner Martin Hoover said. "This is by far our best filtration system to reduce airborne particulates and provide the best overall indoor air quality."
Using SecureAire's patented ACTIVE™️ Particle Control Technology, small airborne particles are combined with other small airborne particles to create larger "clumps" that are then actively transported to the air purification cartridge. Unlike conventional filters that can allow potentially harmful organisms to continue to breed inside a heating and air conditioning system, the SecureAire technology kills any pathogens.
To learn more about Empire, call 404-294-0900 or visit empirehvac.com.
About Empire Heating and Air Conditioning, Inc. – Empire Heating and Air Conditioning, Inc. is based in Decatur, Ga. and was founded in 1985 by Martin and Gila Hoover. Empire services, installs and repairs all makes and models of heating and air conditioning equipment, including boilers, hydronic heating, heat pumps and water heaters. All of its senior technicians are NATE (North American Training Excellence) certified. Empire has been a recipient of the Angie's List Super Service Award for 15 consecutive years.
About SecureAire – SecureAire was founded in 2004 and is headquartered in Dunedin, Florida. The company has developed a number of highly sophisticated air purification technologies that avoid creating harmful byproducts that are common with other IAQ technologies. For more information, visit secureaire.com.