Spring Will Be Here Soon. Is Your AC Ready?
---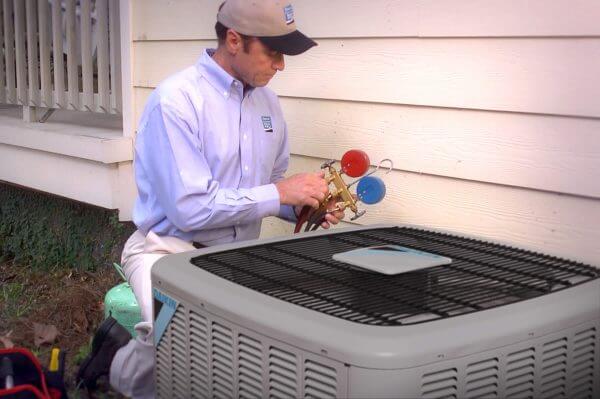 Spring is on its way, and with it the warmer temperatures. During the spring months in the Decatur area, the temperatures average out in the mid-70s, and start to move up into the 80s once May arrives. That's why it's so important that your home's air conditioning system is ready for the warm weather ahead.
One of the best ways you can prepare your air conditioning for spring is by getting your system the annual maintenance it needs. When you choose maintenance for your AC system, you're helping it run more effectively and efficiently, and that helps you and your family enjoy better comfort. Aside from improving system efficiency, there are many other benefits spring maintenance provides.
Learn more about the benefits of spring AC maintenance.
When you choose planned maintenance for your air conditioning system, you'll help it run better and use less energy. And, there are some additional reasons you'll want to consider maintenance for your AC, including:
Improved Indoor Air Quality. Part of annual maintenance for your equipment includes inspecting major components for cleanliness, and cleaning or replacing the filter. This helps ensure that the air circulating around your home contains less dust, dirt, and other particles that can lead to poor air quality in your home.
System Longevity. Your air conditioning system is an investment, and one you'll want to last for years to come. Annual maintenance can help your system enjoy a longer life, and can help it maintain equipment efficiencies that will help you save on energy bills, year after year.
Fewer Repairs. When you get annual maintenance, your technician will be able to tell if all the moving parts in your system are working properly. If something isn't working quite right, your technician can catch it early, before it becomes a larger, more costly issue.
Most manufacturers require that homeowners get regular maintenance on their equipment to keep the warranty intact. Not getting annual maintenance may void your warranty – and that could mean out-of-pocket expenses should your system need repairs down the road.
What can homeowners do to help their air conditioning systems operate better?
You might be wondering if there are any measures that you as a homeowner can take to keep your AC system in good working order. Aside from choosing annual maintenance from a qualified HVAC contractor, there are some ways you can help your AC system along as well.
Invest in an air conditioner cover. You can purchase a cover for your outdoor unit that will help to protect it against the elements, including dirt, debris, and insects, when not in use.
Keep the area around your outdoor unit clean. Keep grass, shrubs, and other vegetation away from your outdoor unit, as overgrowth can obstruct proper airflow.
Change your filter. You'll want to check your filter at least monthly to make sure it's clean, and change it if it isn't. A dirty filter can cause your system to operate less efficiently.
Can Empire Heating & Air Conditioning help me get AC maintenance?
We certainly can! At Empire, we're pleased to provide our customers with professional preventive maintenance services, performed for you by our expert technicians. And, we offer comprehensive maintenance plans that can help you get the maintenance you need, and save money on other services as well. Just give us a call at 404.294.0900 and we will be more than happy to schedule an appointment with you.