Ductless AC vs. Window AC – Which Should I Choose?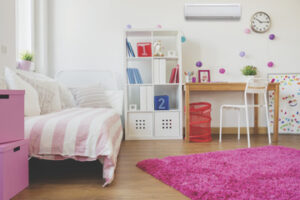 If you have a converted space or addition to your home that doesn't have access to your central air conditioning system, you may be wondering what the best choice is for cooling that space. While window air conditioning units can be a lower-cost choice for home comfort, they may not be as cost-effective as you might think.
There are a number of factors to consider when looking into ways to cool the added space in your home. In this article, we'll explore ductless air conditioning, and why it may be a better choice in the long run for cooling your addition or converted space. Keep reading to learn more!
Benefits of Ductless Air Conditioning vs. Window AC
As we mentioned above, most people choose window air conditioning units because they are generally cheaper than ductless systems at the onset. However, as you'll learn below, there are benefits to ductless cooling that can actually make them the more cost-effective option in the long run.
Ductless air conditioning is safer than window AC. Window air conditioning is usually plugged into an outlet inside your home. If you have pets or toddlers, the cord can be pulled and the unit may become dislodged from the window if not properly installed. Also, burglars can easily remove a window air conditioner from a lower-level window, and enter your home. You won't have these concerns with ductless, though, as it is mounted high on a wall or in the ceiling.
Ductless AC is more energy-efficient than window air conditioning. According to ENERGY STAR, ductless units consume about 30 percent less energy than other types of room air conditioning systems, including window units. Window AC generally has a lower SEER rating than ductless systems, too – a typical window unit has an efficiency rating of around 12, while a ductless system can have up to 27 SEER.
Ductless systems are quieter. As you probably are well aware, window air conditioning systems can be quite noisy and disruptive. This is because the entire unit is essentially "in" your home. While part of the AC unit hangs outside the window, it's still attached to the indoor system so you still hear the inner workings inside your home. With a ductless system, the air handler is inside your home, and the compressor/condenser component is outdoors, allowing comfort to be delivered quietly and unobtrusively.
Ductless systems can potentially be used year-round. While some ductless systems offer air conditioning strictly, many brands and models provide heating and cooling, making them a perfect solution for year-round comfort. That's because many ductless systems rely on a heat pump, which can deliver cooled air to your home in the summer, and warm air during the chillier months. Because of this flexibility, you never have to worry about removing your ductless system during the cooler times of the year, as you would a window air conditioner.
I'd like to learn more about ductless AC. Can Empire help me?
Empire can definitely help you learn more about ductless cooling and heating for your home! We are proud to install quality ductless systems for our customers and provide ductless maintenance and repair services. You'll be able to enjoy effective, efficient comfort year-round when you choose a ductless heating and cooling system from Empire Heating & Air Conditioning. To learn more about our ductless systems, call us at 404-294-0900 or contact us online today!