How Can I Make My Home More Energy Efficient This Fall?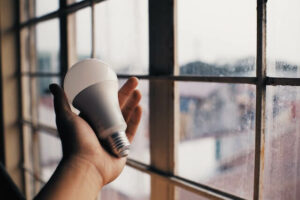 Now that the fall season is underway, people are spending more time at home, and as a result, using more energy. As the days grow shorter, lights come on earlier, and families are more likely to gather around the television in the evenings. That's why this is a great time of year to consider your home's energy usage, and if there are steps you can take to improve energy efficiency – and save money on utility bills.
Five Ways You Can Improve Your Home's Energy Efficiency
Fortunately, there are some simple measures you can take to improve your home's energy efficiency. Some require no investment whatsoever, like unplugging chargers and small appliances when not in use, washing your laundry with cold water, and turning off the lights in your home when not in use. There are some inexpensive steps you can take as well, which include:
Replacing incandescent lightbulbs with LED bulbs. While LED lightbulbs are more expensive initially than traditional incandescent bulbs, the savings is worth the extra cost. The Department of Energy estimates that ENERGY STAR-rated LED bulbs use at least 75 percent less energy, and can last up to 25 times longer, than traditional lightbulbs.
Checking your home for drafty doors and windows. Drafty doors and windows can make your home's cooling and heating equipment work harder because they let the air in from outside and allow conditioned air to escape from your home. Applying weatherstripping around doors and windows can help, and it is readily available at your local home improvement store.
Investing in energy-efficient power strips. People are often surprised to learn that household electronics like televisions, radios, and computer monitors continue to use small amounts of energy, even when off or in sleep mode. Using an energy-efficient, or smart, power strip can help. Smart power strips can actually cut the power off and save energy as they can detect when a device is in standby mode.
Considering replacement of your old thermostat. While an old, dial-style thermostat may be nostalgic, it can also affect your home's energy efficiency. Modern, programmable thermostats can help you save energy and help your HVAC system operate more effectively and efficiently. Generally, they can be programmed for when you're home, away, and sleeping. More advanced "smart" thermostats can even learn your family's habits and can be controlled remotely via your smartphone or computer.
Making sure your HVAC equipment is in good working order. The best way to ensure your cooling and heating equipment is operating as efficiently as possible is by making sure it gets the annual maintenance it needs. A well-maintained system is almost always more efficient than a system that has not received annual maintenance – according to the Department of Energy, neglecting maintenance causes a continual decline in system performance, while energy usage steadily increases.
Can Empire Heating & Air Conditioning help make my home more energy efficient?
At Empire Heating & Air Conditioning, our priority is helping customers stay as comfortable as possible while keeping their energy usage manageable. We're pleased to offer our customers the products and services needed. Whether you need annual maintenance for your heating or cooling system, a new thermostat, or new, energy-efficient HVAC equipment, we're ready to help you.
To learn more about our planned maintenance program, high-efficiency equipment, or advanced thermostats, just give us a call at 404.294.0900. We'll be more than happy to discuss our products and services with you and schedule an appointment with you today!